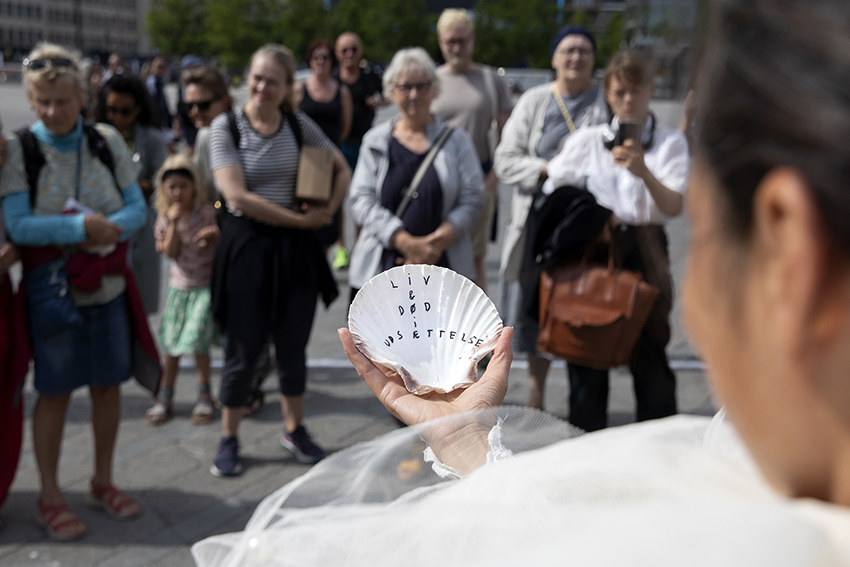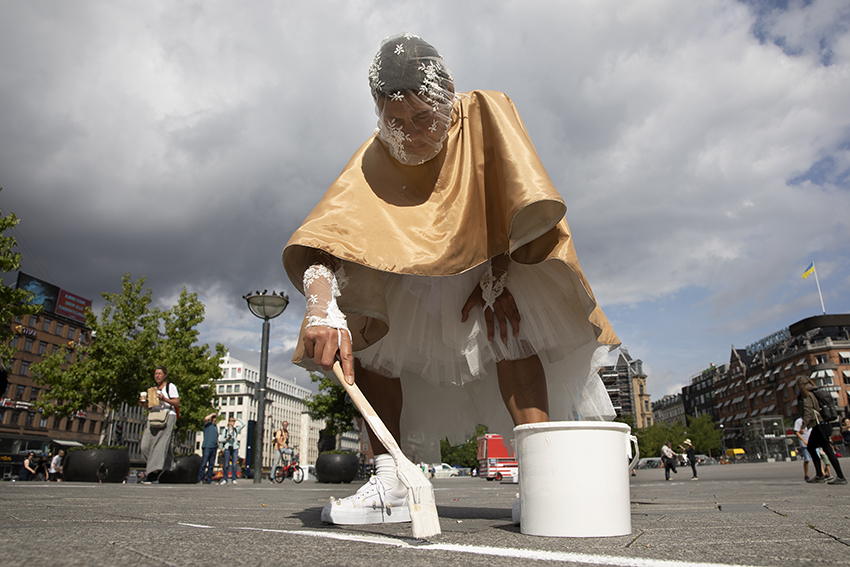 Mussel 
Location: Copenhagen City Hall Square 
Time: 9th of August 2022
Duration: 6 AM-7PM
Collaboration between Metropolis & Politikens Forhal
Renaissance Swirl
Location: Politiken's Forhal Copenhagen
Download the full performance text (both English & Danish)
Renæssance Spind tekst af kunsthistoriker Sanne Kofod Olsen på Dansk
Mussel
Location: Copenhagen City Hall Square
Time: 9th of August 2022
Duration: 6 AM-7PM
Collaboration between Metropolis & Politikens Forhal
In its original architectural form, the town hall square was a seashell. The mussel as a symbol of rebirth, fertility, and the eternal journey. As a ritual, archaeological excavation, performance artist Lilibeth Cuenca Rasmussen revives the original square by redrawing the mussel.
Like the woman in Botticelli's famous painting of the Birth of Venus, she emerges from the large seashell dressed in her voluminous dress. She heals the square with her shells and shares her thoughts embedded in the hundreds of shells – like little bits of rebirth poetry.
Just as in the Renaissance people freed themselves from the strict dogmas of the Middle Ages, it is time for a rebirth. A paradigm shift in these times when we are looking for a foothold in the midst of changes and challenges. An opportunity to give birth to new, liberating ideas.
Text by Louise Kaare Jacobsen, Metropolis
Photo credit: Finn Frandsen, Politiken & Marine Gastineau, Metropolis
Renaissance Swirl
Location: Politiken's Forhal Copenhagen
The original Copenhagen City Hall Square seashell shape is the starting point for Lilibeth Cuenca Rasmussen's exhibition "Renaissance Swirl", where the seashell theme unfolds in relation to two meanings: pilgrim and rebirth. The pilgrim and the mussel are connected by the saint James the Elder, who was the patron saint of pilgrims, whose mortal remains are said to lie buried in Santiago di Campostela in Galicia. The mussel is also a symbol of the Camino, the pilgrimage route to Santiago di Compostela, which is today a popular "pilgrim" walk. With the seashell as a religious symbol, Lilibeth Cuenca Rasmussen takes her audience on a pilgrimage towards the future, which includes, among other things, a "healing" of the Town Hall Square with the performance "Mussel".

www.forhallen.dk