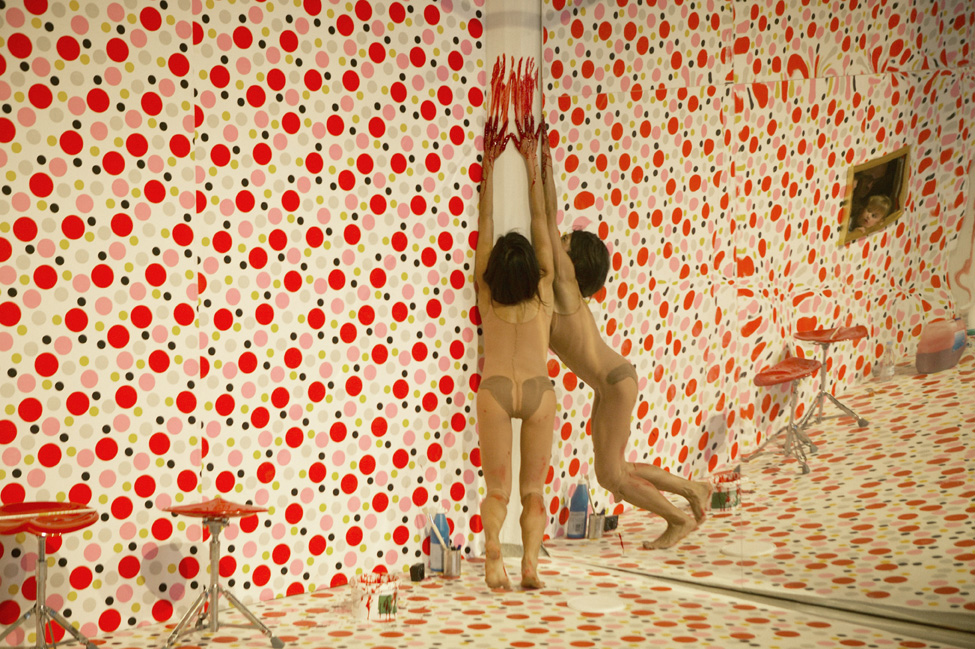 2008
Performance documentation – video and photography
Produced for U-TURN, Quadrennial for Contemporary Art, Copenhagen
Lyrics and vocals: Lilibeth Cuenca Rasmussen
Music: Anders Christophersen
Costumes: Lise Klitten
Photo and camera: Andreas Rosforth
Editing: Niels Plenge
Video: 4:20 minutes
Installation and live performance:
2008: U –TURN, Quadrennial for Contemporary Art, Copenhagen
2009: Incarnational Aethetics, NY Center for Art and Media Studies, New York City
Praxis: Art in Times of Uncertainty, Biennale of Contemporary Art, State Museum of Contemporary Art, Thessaloniki (excl. part 3)
Part 1:
Interpretations of Marina Abramović and Ulay
Selected performances from 1976 – 1988
Performance with Thomas Bentin and Kasper Ravnhøj: 30 minutes
Video: 9:18 minutes
The weighty wall of art history constitutes a challenge for a new generation of artists. Inevitably, an artist has to clear the relation to his/her precedents and artistic relatives. Cuenca Rasmussen reenacts and deconstructs iconic works and personas of performance art.
MARINA ABRAMOVIC (1946, BELGRADE)
ULAY, FRANK UWE LAYSIEPEN (1943, SOLINGEN)
Reenactment list:
RELATION IN TIME, 1977 (1 hour in public, total duration 17 hours)
NIGHT SEA CROSSING, series, 1981-1987 (duration opening hours of a museum 10-5 pm minimum 1 day maximum 16 days)
6WF, 1981 (6 hours)
GO, STOP, BACK STOP, 1979 (90 minutes)
MONDUS VIVENDI, 1981 (96 minutes)
AAA-AAA, 1978 (15 minutes)
LIGHT-DARK, 1977 (20 minutes)
CHARGED SPACE, 1978 (32 minutes)
INTERRUPTION IN SPACE, 1977 (46 minutes)
REST ENERGY, 1980 (4'10 minutes)
(The time in the brackets indicates the original duration of each performance)
Part 2:
Never Mind Pollock
Performance: 40-50 minutes
ORLAN (1947, SAINT EITIENNE)
S´HABILLER DE SA PROPRE NUDITÈ, 1976-77 &
TENTATIVE POUR SORTIR DU CADRE, 1965
YAYOI KUSAMA (1929 MATSUMOTO, NAGANO)
POLKA DOT INSTALLATION & HAPPENING FASHION SHOW, 1968
LILIBETH CUENCA RASMUSSEN (1970 MANILA)
THE ARTIST´S SONG 2, 2008
NIKI DE SAINT PHALLE
(1930, NEUILLY-SUR-SEINE – 2002, SAN DIEGO)
SHOOTING PAINTINGS, 1961-63
HELENA ALMEIDA (1934 LISBON)
PINTURA HABITADA, 1975
SHIGEKO KUBOTA (1937 NIGATA)
VAGINA PAINTING, CINEMATEQUE, NEW YORK CITY, 1965
ANA MENDIETA (1948 HAVANA–1985 NEW YORK CITY)
BODY TRACKS, UNIVERSITY OF IOWA, USA, 1974
JANINE ANTONI (1964, FREEPORT, BAHAMAS)
LOVING CARE, 1992-96
LYNDA BENGLIS (1941, LAKE CHARLES, L.A.)
BLATT, 1968-70
CAROLEE SCHNEMANN (1939, FOX CHANGE, PENNSYLVANIA)
BODY COLLAGE, 1967
YOKO ONO (1933, TOKYO)
PAINTING TO BE STEPPED ON & SMOKE PAINTING, 1961
Performance: 2008: Perform History, U–TURN, Quadrennial for Contemporary Art, Copenhagen, Århus Kunstbygning, Århus
2009: re.act.feminism, Akademie der Künste, Berlin, Once more with Feeling, Tate Modern, London
Part 3:
Make a piece of Art
Artist talk – Performance
Interview of Lilibeth Cuenca Rasmussen by Toke Lykkeberg
Duration of performance and video: 50 minutes
YOKO ONO (1933, TOKYO)
JOHN LENNON (1940, LIVERPOOL – 1980, NEW YORK CITY)
BED-IN: MAY 26TH 1969, ROOM 1742 QUEEN ELIZABETH HOTEL, TORONTO
Performance: 2009: re.act.feminism, Akademie der Künste, Berlin
Exhibitions (the video):
2009: Power to the Brand, Museum of Contemporary Art, Banja Luka, Bosnia
2010: Heidelberger Kunstverein, Heidelberg