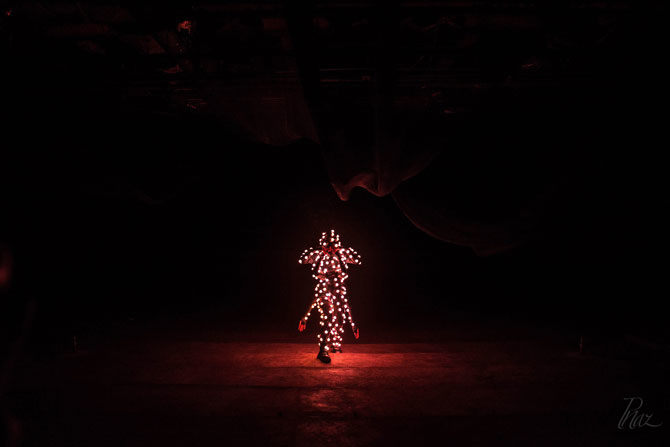 I always envied the abilities of the octopus especially its tentacles. In the living sculpture and performance Octopada. I impersonate the features of the octopus. The outfit can change color by copying the color, of what it points at. It has 8 tentacles: 6 arms and 2 feet.
When, avoiding the enemy the octopus camouflages itself in its environment by imitating colors, patterns and shapes, it can detach a tentacle or even start devouring it self, if it has to escape from danger.
Idea and Performer: Lilibeth Cuenca Rasmussen
Costume Designer: Lise Klitten
Octoada – Bergen
2017
Photo by Dag Fosse
KODE, Bergen
Octopada – manilla
MET, Manila 2016
Technical: Peter Zander
Hands: Michael Schulz Art Fabrication
Photo: PNaz Photo
Venue: Festival Nordlys & P-noise at The MET, Metropolitan Theatre Manila 2016.