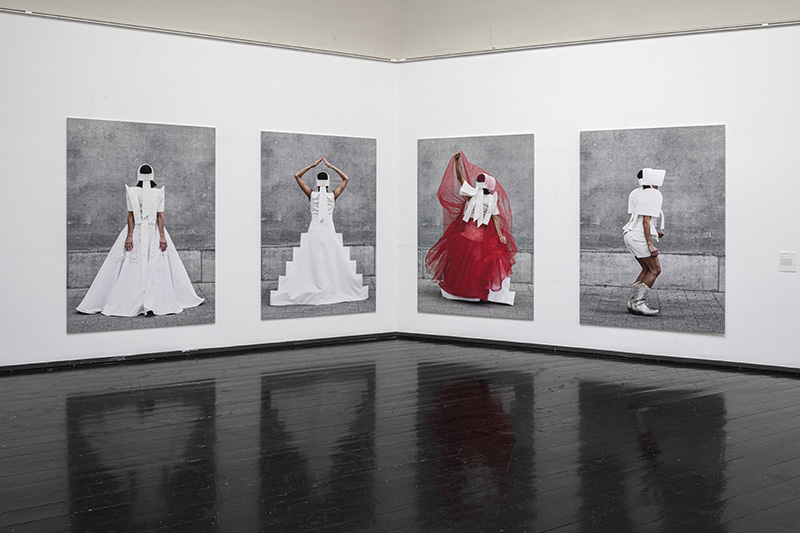 Group exhibition artists: Lise Blomberg, Ursula Reuter Christiansen, Jeannette Ehlers, Marianne Therese Grønnow, Lea Guldditte Hestelund, Dorte Jelstrup, Kirsten Justesen, Sophia Kalkau, Stense Andrea Lind-Valdan, Lilibeth Cuenca Rasmussen, Elisabeth Toubro, Maria Wæhrens and Kathrine Ærtebjerg.
Installation shot: Anders Sune Berg
Den Frie Udstillingsbygning Copenhagen 2019
The exhibition Writings of Bodies … sets the stage for an uncontrollable, ecstatic celebration of imaginative visual, sculptural and performative artistic expressions. Curated by artists Dorte Jelstrup, Elisabeth Toubro and Kathrine Ærtebjerg, the exhibition features prominent contemporary female artists spanning generations – each of whom draws on bodily experiences in the conceptualisation and creation of their works.
The overall theme of the exhibition draws inspiration from French feminist critic, author, playwright and philosopher Hélène Cixous. With her legendary 1976 text "The Laugh of Medusa", Cixous is among the central thinkers in feminist theory. She encourages female artists to "write" their bodies. In Writings of Bodies <<<We Know it From the Inside>>>, the exhibiting artists heed the call of Cixous with paintings, sculptures, drawings, video works and performative works. The exhibition combines completely new works and a selected few previously exhibited works of importance.